This is the first in a series of posts that will deal with our gear selections, new and stuff we've had for a while. Although it's possible to take on an adventure like this for comparatively little money, our version involves some investment, not the least of which is arranging for a house sitter for four months and renting and driving a vehicle into back-of-beyond Canada--well, Jasper, anyway. For others considering cycle touring, these posts will serve as a resource for making selections. I have my biases, which will become clear soon enough, but my goal is always to give good information.
As the sub-title of the post suggests, this is about getting sleep, laying one's pedal-thrashed carcass down for a few hours of much needed regeneration before getting up and doing it all over again. In this area, I will cut no corners, spare no expense, and deal with extra weight as necessary. Having a comfortable platform for hanging out and sleeping is one of the most important considerations for me and Jodi. If I don't sleep well, the whole experience starts to unravel--as do I.
My equipment has gone the standard evolutionary route, I suppose. When I was quite young (early/mid-teens), I could sleep on those spongy, flesh-colored "insulite" foam pads, but by my late teens, those days were over. Next began a decades-long relationship with the Thermarest corporation. I've had 1" pads (too thin), and for years and years used the 1.5" model, usually 3/4 length so I had to put something under my heels to make the pads workable. Finally, we said, and I quote: "Screw it!" And went with the deluxe 2" "Camp Rest" model, complete with chair kit cover, for a lot of life in camp is not in the horizontal plane. We sit to cook, eat, gawk at the sunset, so a comfortable chair is important, too. With this setup, you are the King of Kings on his throne: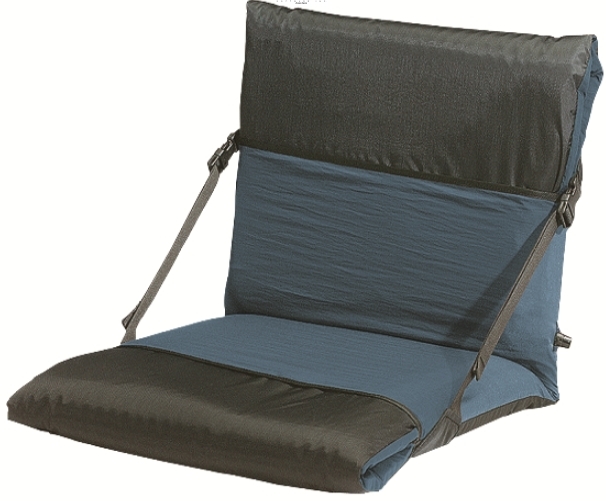 The Camp Rest and this chair kit were on my bike for my 2007 cross country ride. In general, I was quite happy with it, but still, like a junkie, I craved more, thicker, softer, yummy sleepier! So we tried the Big Agnes line of air mattresses, a high-tech rework of the classic design:
These are light and comfortable, if a bit noisy to sleep on. The down side? The chairs are not the most sit-friendly, although these were okay. The big problem with Big Agnes is production quality. We've had three of these fail along the seems, resulting in very annoying leaks that left us with limp pads in the morning and the occasional refill in the middle of the night. I cannot recommend this brand. Sorry, Big Aggie, we love your tent (more on that in a later post), but we'll pass on the pad.
So my quest for the perfect pad was unfulfilled, the Grail illusive, the Sorcerer's Stone hidden. Thanks to the glories of the Internet, I found--to date--the best sleeping system for my needs: Exped. Below is a photo of the Exped Synmat 7 long:
This line of pads, designed by a Swiss wizard, has some very nice features. The pads are almost 3" thick, have a soft-to-the-touch top fabric, and, get this, have their own built in pump system:
The pump is constructed of a one-way valve inside and to the left of the visible plastic valve. Just pop the inlet valve, place hands as indicated, and start pushing. My large pad 78 x 26" inflates in two minutes or less. No light-headed staggering about after a day on the open road, and no damp air injected into the pad. Here's a view showing how to inflate:
The pad also has an excellent chair sleeve that stays on the unit. Here's a pic of the Exped next to my Camp Rest:
Here are the two pads rolled, side by side:
So what are the drawbacks? One, $$$. Two, weight. The bulk doesn't bother me, and the cost isn't a big deal for me--about $150 at REI--because a good night's sleep is worth it. So, how much does it weigh? Ugh, about 4 lbs.! This is not a lot more than the Camp Rest, but many weight-conscious hiker-bikers will find this a deal breaker. We're willing to haul some extra weight for the comfort of the perfect camp. These are the best we've used, and we look forward to many nights in the wilds on these pads. Check them out. I think you'll be impressed.